November 7th, 2010
Anyone who knows me knows my FAVORITE pastime is sunbathing, but this year was a busy one for me and the agency so there were no Summer seaside vacations to be had. However there was sea salt of another sort – Brown Butter & Sea Salt Cookies.
This Summer marked the start of my search for the perfect gift-giving cookie for the holiday season and Brown Butter has long been one of my favorite flavor profiles.
I began with a recipe I found online at Maple Sugar Lyrics inspired by the Brown Butter Cookie Company.
Brown Butter & Sea Salt Cookies
Ingredients:
1 cup salted butter
2/3 cup brown sugar
1 Tbs sugar
2 tsp vanilla
2 1/4 cups flour
1 tsp baking powder
Sea Salt
1. In a small saucepan, melt butter on low to medium heat, stirring occasionally, until browned. Stir in sugars and vanilla and remove from heat.
2. Let the sugar mixture cool to room temperature.
3. In a mixing bowl add flour and baking powder. Stir in sugar mixture until combined.
4. At this point I recommend letting the mixture rest for at least an hour to let the flour absorb all the butter. The mixture may be stiff afterwords and crumbly- microwave handfuls of dough for 10 seconds. The dough will be easier to roll.
5. Preheat oven to 325 degrees F.
6. Roll 1 inch balls of dough and dip in sea salt. Place on cookie sheet with sea salt on top.
7. Bake for 15 minutes.
These were pretty yummy, but I was looking for less of a crumbly shortbread, and more of a chocolate chip cookie-like moistness. So I went on to try a recipe I found on All Recipes. I did make the frosting as well (which was fabulous) but I wanted stackable cookies for the holidays, so I also tried them with sea salt.
I've made this recipe on two separate occasions and learned that refrigerating the dough prior to baking creats a thicker cookie. Baking without refrigerating the dough creates a thin chewy cookie.
I also never added nuts, but did replace them with chocolate chips the second time around which was a nice addition for chocolate fans.
Also the cookies really take on the shape of how they are placed on the cookie sheet so be sure to round them.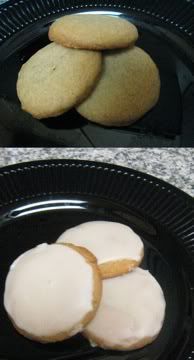 Ingredients
* 2 cups butter
* 2 cups brown sugar
* 2 eggs
* 2 teaspoons vanilla extract
* 1 teaspoon baking soda
* 1/2 teaspoon baking powder
* 1/2 teaspoon salt
* 3 cups all-purpose flour
* 2/3 cup chopped pecans
* 2 teaspoons vanilla extract
* 3 1/2 cups confectioners' sugar
* 1/2 cup hot water
Directions
1. Preheat oven to 350 degrees F (175 degrees C).
2. Heat butter over medium heat for 5 minutes or so, until it turns nut brown in color. The foaming and bubbling is part of the browning process, but watch it carefully so that you don't burn the butter. Remove from heat, and cool slightly. Reserve 1/2 cup of the butter for the frosting.
3. Pour remaining browned butter into a large mixing bowl. Beat browned butter with brown sugar until the butter is no longer hot. Mix in eggs, 2 teaspoons vanilla, baking soda, baking powder, and salt. Beat thoroughly. Mix in flour and chopped pecans. Drop tablespoons of dough onto ungreased baking sheets.
4. Bake for 10 minutes in the preheated oven, or until light brown around the edges. Cool.
5. In a medium bowl, mix the reserved 1/2 cup browned butter with 2 teaspoons vanilla, confectioners' sugar, and hot water. Beat until smooth, and use to frost cooled cookies.