Monday, November 8th, 2010
My best girlfriend got married this year. We celebrated her last days as a bachelorette at the Mondrian in Los Angeles.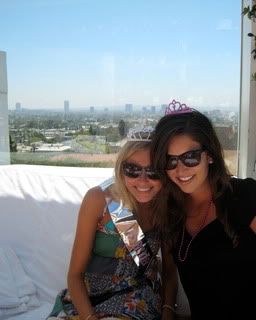 While the hotel didn't impress, the Cielo De Coco dessert at Asia de Cuba, the hotel's restaurant, did!
I left that weekend with roasted banana and dulce de leche on my mind for the next cookie recipe. But after extensive web research I didn't see much along these lines that was of interest - I didn't want to make traditional alfajores, which let's face it, can't really be improved, and I didn't want to make just some weird cookie-hybrid of banana bread.
I finally came across two recipes near these flavors that had oddly similar ingredients, one from Hershey's Kitchen and the other from All Recipes. Then Godiva taught me how to roast bananas. I combined all of my findings and adapted a few things to create the following recipe:
Roasted Banana and Toffee Cookies
(A.K.A "Anniebananies")
Ingredients:
2 ¼ cups all-purpose flour
1 tsp baking soda
½ tsp salt
1 stick butter
¾ cup sugar
¾ cup light brown sugar
1 tsp vanilla
2 eggs
8 oz crushed toffee
3 roasted bananas
Optional sea salt
Preparation:
1. Roasting bananas: Slice ripened bananas in half and place skin-side-down on cookie sheet. Lightly spread tops with melted butter and crumble brown sugar. Roast in the oven at 350 degrees for 15 - 20 minutes. Scoop out entire banana into bowl and set aside.


before roasting
2. Crush toffee
3. Blend dry ingredients: Combine flour, baking soda and salt (set aside).
4. Blend wet ingredients: Butter, sugar, vanilla, roasted bananas and eggs.
5. Blend dry and wet ingredients: Slowly add flower mixture, stir until batter is smooth.
6. Add toffee chunks and mix thoroughly.
7. Use a tablespoon to round dough and place on greased cookie sheet.
8. Optional: Add a pinch of sea salt to the top of each dough ball.
9. Bake at 350 degrees for 9-11 minutes.
Yields 4 dozen cookies
These were a favorite of all my cookie tasters (my dad even called them "heavenly") but they are so moist they end up in a big cookie clump after a few days. If I ever give these cookies as a gift in a stack, I'd be sure to separate each cookie with parchment paper.
You can vote for these cookies in the LA Times Holiday Bake Off!