Monday, January 11th, 2010
As you likely know, my current last name is Moreno. As you may also know, Moreno means brown in Spanish. So if I were to adopt a "brownie" cookie recipe as my own, it would be logical that the resulting cookies should be known as Morenitas.
In my search for the perfect brownie-like cookie, worthy of my namesake, I tried two separate recipes. The first I found on My Baking Addiction, and attempted to incorporate the Paula Deen Symphony Bar in the center trick, which is delicious in actual brownies. However this recipe was lacking in salt, and was a little too bitter for my taste (but I do continue to check out her site - beautiful pics and great baking ideas!)
I then went on to discover this recipe on Martha Stewart, and it is a definite winner – by far Bob's favorite recipe to date.
Here is the recipe with my minor adaptations: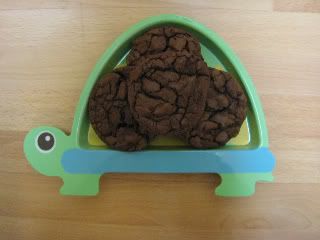 Morenitas
Ingredients
• 1 cup all-purpose flour
• 1/2 cup unsweetened cocoa powder
• 1/2 teaspoon baking soda
• 1/2 teaspoon coarse salt, more if desired for tops of cookies
• 1/2 pound milk chocolate, 4 ounces coarsely chopped or chips, 4 ounces cut into 1/4-inch chunks or chips
• 1/2 cup (1 stick) unsalted butter
• 1 1/2 cups sugar
• 2 large eggs
• 1 teaspoon vanilla extract
Directions
1. Preheat oven to 325 degrees.
2. Whisk together flour, cocoa powder, baking soda, and salt; set aside.
3. Melt 4 ounces coarsely chopped chocolate or chips with the butter in a small heatproof bowl set over a pan of simmering water; let cool slightly.
4. Put chocolate mixture, sugar, eggs, and vanilla in the bowl, mix by hand until combined.
5. Gradually blend in flour mixture and fold in chocolate chunks or chips.
6. Using a rounded tablespoon, drop dough onto parchment-lined baking sheets, spacing 2 inches apart.
7. Optional: Add a pinch of course salt to tops of cookies
8. Bake until cookies are flat and surfaces crack, about 15 minutes (cookies should be soft).
9. Let cool on parchment on wire racks.
10. Store cookies in airtight containers at room temperature up to 4 days.
Makes about 2 dozen
The odd thing about these cookies is that each batch turns out a little different as the chocolate begins to re-solidify, but all batches turned out great, and were excellent for stacking/gift giving!